Ugye, milyen szép lett a blog? Én biztos, hogy nem tudok betelni vele! Nagyon köszönöm Szabó Leventének a gyönyörű napfényes rajzot, Toth Petrának a rengeteg, rengeteg segítséget és a vidám e-maileket! És természetesen köszönöm mindenkinek, aki már most olvassa a blogot, az őszinte biztatást! Nélkületek ez a blog sosem indult volna el!
Mivel nekem minden élethelyzetre van egy-két szuper A bit of Fry and Laurie jelenetem, következzen most Stephen Fry egyik szuper monológja. A címe egészen egyszerűen: Hogyan legyünk nagyszerűek?  A monológban Stephen Fry elmondja nekünk a nagyszerűség titkát. Úgy mondja el, ahogy csak ő tudja. A titok egyébként az, hogy az embernek hinnie kell benne, hogy ő nagyszerű. Persze az sem árt, ha sokat mondják neki mások, hogy ő nagyszerű. Úgyhogy, Petra, Levente, Kedves Olvasóim, aki biztattatok és biztattok, én most elmondom nektek: nagyszerűek vagytok! Köszönök mindent!
A blog tehát nagyon szép lett. Gyönyörködjetek benne, olvassátok, lájkolátok, osszátok meg, szóljatok hozzá a bejegyzésekhez, hogy élő is legyen! De mindenekelőtt hallgassátok meg Stephen Fryt! A monológ szövegét a tovább mögött megtaláljátok angolul. Ígérem, ha egyszer leszek olyan nagyszerű, hogy le tudom fordítani, feltétlenül fölteszem a fordítást a blogra! De addig se felejtsétek el, hogy tényleg nagyszerűek vagytok!
                                                                                                   Bori
'I think it was Donald Mainstock, the great amateur
squash player who pointed out how lovely I was. Until
that time I think it was safe to say that I had never
really been aware of my own timeless brand of
loveliness. But his words smote me, because of course
you see, I am lovely in a fluffy moist kind of way and
who would have it otherwise?
I walk, and let's be splendid about this, in a highly
accented cloud of gorgeousness that isn't far short of
being, quite simply terrific.
The secret of smooth almost shiny loveliness, of the
order of which we are discussing, in this simple,
frank, creamy sort of way, doesn't reside in oils,
unguents, balms, ointments, creams, astringents,
milks, moisturisers, liniments, lubricants,
embrocations or balsams, to be rather divine for just
one noble moment, it resides, and I mean this in a
pink slightly special way, in ones attitude of mind.
To be gorgeous, and high and true and fine and fluffy
and moist and sticky and lovely, all you have to do is
believe that one is gorgeous and high and true and
fine and fluffy and moist and sticky and lovely.
And I believe it of myself, tremulously at first and
then with rousing heat and passion, because, stopping
off for a second to be super again, I'm so often told
it.
That's the secret really.'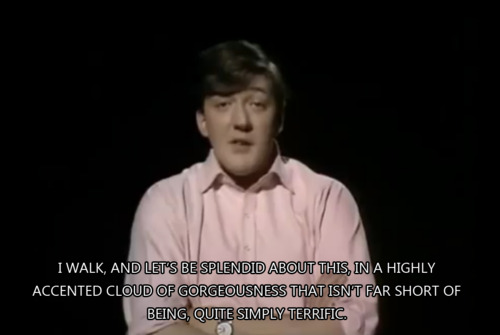 A bejegyzés trackback címe:
A hozzászólások a vonatkozó jogszabályok értelmében felhasználói tartalomnak minősülnek, értük a szolgáltatás technikai üzemeltetője semmilyen felelősséget nem vállal, azokat nem ellenőrzi. Kifogás esetén forduljon a blog szerkesztőjéhez. Részletek a Felhasználási feltételekben és az adatvédelmi tájékoztatóban.